Delicious protein pancake recipe
Many of my close friends and family have enjoyed my protein pancakes over the years. In fact I've been making these protein pancakes for over 10 years!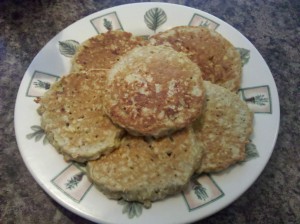 After many requests, I am finally writing my protein pancake recipe!
Ok, so let's get down to business. Here is a list of the ingredients you will need:
2 1/2 cups Old fashioned oats
 2 1/2 scoops Vanilla flavored low carb meal replacement powder (50g protein). It needs to be a low carb milk/casein based protein. My favorite is Beverly International Ultimate Muscle Protein. I have not found a better protein for this! You could also try Muscle Milk or Biotest at your own risk.
1 medium or large ripe banana cut up into small chunks
2 tsp ground cinnamon (adjust to your liking)
1 tsp ground nutmeg (adjust to your liking)
1 cup of low fat cottage cheese
4 whole Eggland's best eggs (the yolks have the good stuff!)
2-3 egg whites (use the cheap eggs for these)
Almond Milk (use just enough to give the batter a medium consistency)
Coconut oil for cooking on a large pan or skillet
Now that you have assembled your ingredients, arrange them like so on your counter top and take a picture. There is no point to this step but it will generate some odd looks if you are cooking in company!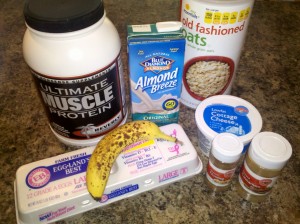 Protein Pancakes: Step 1
Combine every ingredient except for the almond milk and coconut oil into a large mixing bowl. Stir well until it is a consistent batter. This activity will give your forearms a great workout!
Protein Pancakes: Step 2
Now that you have the batter mixed up, add almond milk a little at a time until it's a softer consistency (not to much liquid!).
Protein Pancakes: Step 3
Put a small amount of coconut oil into the cooking pan and turn the heat up to medium high. Arrange the pancakes on the pan in roughly 3″ diameter circles.

Protein Pancakes: Step 4
Cook the protein pancakes until little heat bubbles form on the top side. This is your sign to flip them. Let them cook on the other side for a few more minutes. I usually give the pancake some light taps with 2 fingers to determine if they are cooked. They should feel a little bouncy…. you'll see what I'm talking about!
Protein Pancakes: Step 5
Now it's time to enjoy the fruits of your labor!
You can top the pancake with some light whipped cream and fresh fruit or my personal favorite of natural peanut butter and light whipped cream.
Enjoy!!